Check out the free ebook
Summit's Guide to IT Management is a straightforward guide to creating a successful roadmap for your enterprise and managing both the human and technical assets needed in today's IT environment.
In the free ebook we cover using enterprise tools to design your network, budget for IT, and create a roadmap for the enterprise. Included are tips for how your business can attain and retain top talent by creating a great work environment and build relationships with vendors and external resources.
We also cover staying on top of technology changes and preparing for emergencies from network down time to natural disaster and how documentation can help with recovery.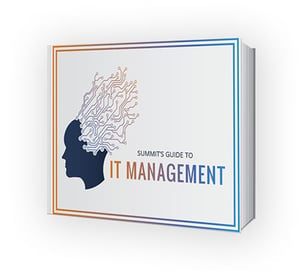 What's inside?
Defining your IT needs
Tips for creating budgets
Calculating storage and network requirements
Network expansions planning
Security and policy advice
Network and team management tips
Budgeting
Get tips and insight into creating IT department budgets. Also, discover new ways to stretch your budget and save on hardware.
Team Communication
Learn how to improve your team communication and the performance of your whole IT staff.